Literacy Gala
Children First is excited to host our second annual Literacy Gala, on Friday, Nov 3, 2023, from 6:30 to 10:00 p.m. at Seven Oaks Country Club. Tickets are now sold out!

The cocktail reception begins at 6:30 followed by dinner and entertainment.
Join us for an enchanting evening at the Second Annual Children First Literacy Gala, "Páginas del Corazón" (Pages of the Heart). Celebrate the power of words and the joy of reading as we honor the departed and pay homage to the written word. Immerse yourself in a world where pages come alive, where stories ignite imagination, and where hearts are touched. Together, let's embrace the magic of books and honor the transformative impact of literacy amidst the ethereal ambiance of Dia de los Muertos. Mark your calendars for an unforgettable night as we gather to celebrate the pages that shape our lives. You are cordially invited to be a part of this literary extravaganza on this sacred evening.
We are committed to strengthening a culture of reading in East Bakersfield, and your attendance at this event will directly support the Children First Literacy Program.
In spring of 2022, Children First launched our first Literacy Program with Williams Elementary School. The program recruited 10 reading coaches and reading mentors to students in first, second, third, and fourth grades. This program enhances reading and comprehension skills for students who require additional support through small group interventions. The success of this pilot program has inspired us to expand its reach to more schools in East Bakersfield! Literacy is an essential element to a child's development and opens the door to a brighter future. In 2023, Children First will broaden our circle of positive influence and grow our literacy program, but we need the help of generous community members like you!
Our Sponsors: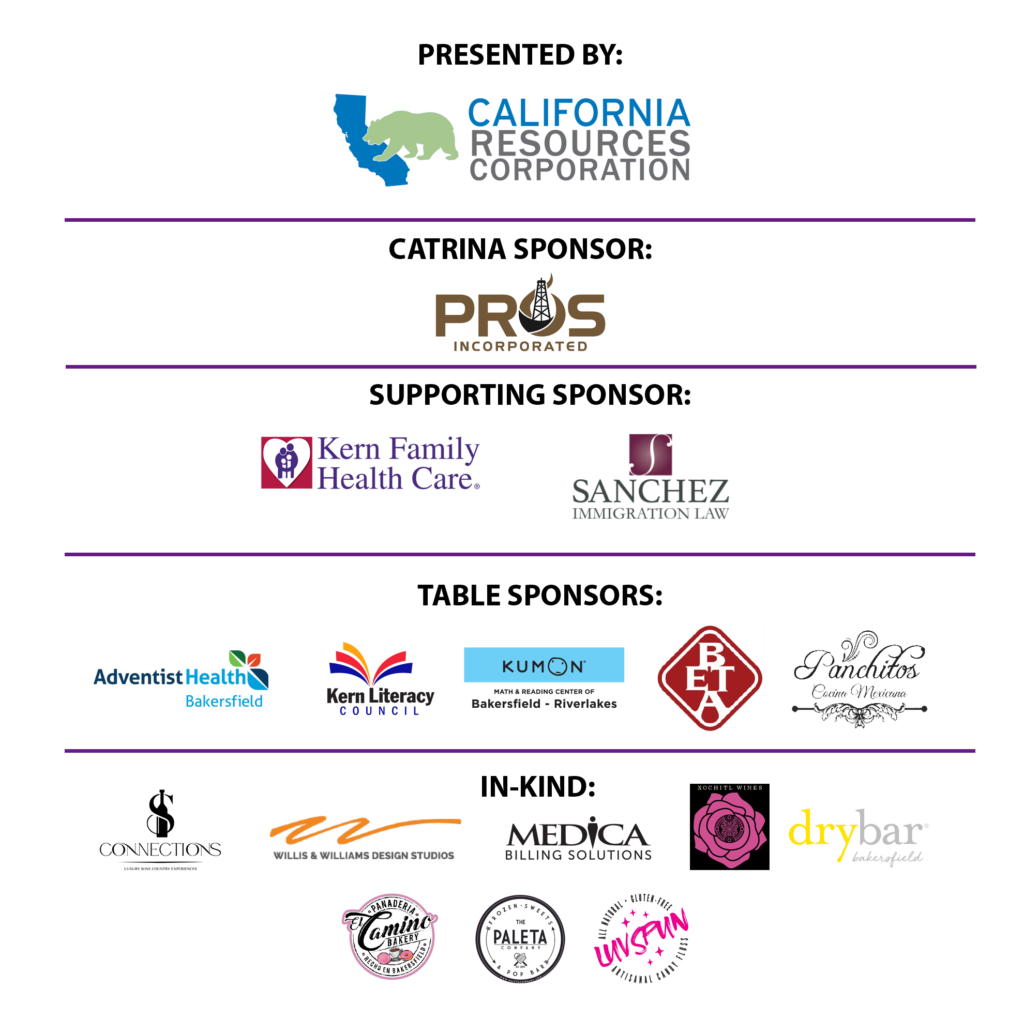 See highlights from our 2022 Gala below:
2023 Sponsorship Opportunities
We rely on the generous support from donors to make this event possible. Your contribution – at any amount – will be recognized at the event. If you would like to be a sponsor, please contact us. Your early support will be very much appreciated.
GRAND Platinum Sponsor $15,000
Company name on main screen at event
Company name and web address on GALA website
Customized signage at table centerpieces
Logo on Pan Dulce packages
Company logo on GALA welcome banner
Two Complimentary Table to the event (16 seats)
Table placement front and center
Padrinos of youth and family dinner

Marigold Sponsor $6,500 — EXCLUSIVE
Company name on main screen at event
Company name and web address on GALA website
Customized signage at table centerpieces
Company name on printed program
Company logo on GALA welcome banner
Complimentary Table to the event (8 seats)

Catrina Sponsor $5,000 — EXCLUSIVE
Company name on the main screen at event
Company name and web address on GALA website
Company name on printed program
Customized signage at table centerpieces
Company logo on GALA Welcome Banner
Complimentary Table to the event (8 seats)
Wine Bottle Sponsor $3,500 — EXCLUSIVE
Company name on the main screen at event
Company name and web address on GALA website
Company logo on wine bottles on all tables
Company logo on GALA Welcome Banner along with all sponsors
Company name on all wine bottles at tables
Four Complimentary seats

Supporting Sponsor $1,500
Company name and web address on GALA website
Customized signage at table centerpieces
Four Complimentary seats
Company name on printed program

Friend $500
Company name and web address on GALA website
Company name on printed program